Look what came in the mail today!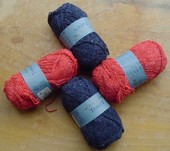 The photographs do not do this stuff justice. I have to agree with Tricky Tricot. This would make some fierce socks. I just have to decide how I want them to look.
I need to stop at the post office tomorrow to send off a few packages. (WAY overdue birthday gifts, The Colinette Firecracker Eve to Margaret, and Micheal's soapshed lotion bar that FINALLY came.)
Then I will attend (part) of a marching band show with Tara.
I'm hoping we do something this weekend for my sister's 13th birthday, but no word as of yet. I just hope they don't decide to do something next weekend when I'm in Iowa.