Ok, apparently the chrome-plated testicles I saw the other day have a name, "Bumpernutz". If you still need a visual, go
here
. What I don't understand is, They come in "camo". So your truck can have "bumbernutz" that I can't see???
Ok, as for pictures. Sorry there aren't more. I've been car shopping.
FO #1 It is the mother's day surprise,#1 A tank for my sister -in-law.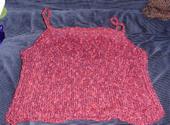 Made from Red heart Casual Cot'n. (See, they do that Cot'n thing because it's mostly acrylic and polyester with just a smidgen of actual cotton.) I'm not a big fan of this stuff normally, but I LOVE this color It's called Grand Canyon.
FO #2 is a no photo. Carma's cardi. (Sorry folks, she gets to be the first to see it) I made it from di.ve cotton and cascade bobble.
Here's a close up of one of the shrinky dink buttons I made for it. Sorry for the soft focus. I can't seem to get a good picture of it.
Now, an almost finished object. The tank that started out as a Honeymoon from knitty, but evolved into another creature altogether. I think I'm going to like it. Although the short rows in the bust kind of creep me out. I'm using SW trading Co soysilk (Oasis? I think, in "candy") This stuff is awesome. I love it. I'd use it a lot more f it wasn't so stinkin' expensive. But then again it comes in big skeins, so maybe I shouldn't complain so much.
I know you all want to see the guitar strap, but until it's done and felted, it just looks like crap. It's to be part of Nate's Father's Day gift, so hang tight.
I'm trying to decide which stitch markers to send for the Bead It thing. Should they be all the same? Different? I don't know yet.
Anyway, I'm hoping to head up to the knit shop today and hang out. Although I feel a bit guilty, because I REALLY need to clean. Eh, screw it. The dirt's not going anywhere, right?
I leave you with a very endearing picture of Jessie.
She likes to wake up late at night and climb in the office chair with me, and fall back asleep.