My pre-ordered
bookbookbook
arrived yesterday morning. There would be much fanfare, except for the fact that I had grown impatient on Saturday, went to the nearest bookstore and bought a copy. I read part of it in the parking lot before I got home. I love it.
The closest the
tourtourtour
will be is Kalamazoo, MI. I may forfeit my "Mother of the Year" award, and take Jess out of school to go. I have not yet decided.
Not much going on really. I'm just trying to get a jump on clearing things out I'm going to have another serious look at my stash and see what I can live without. Maybe I'll even have some give-aways or contests. We'll see.
Anyway, my Ma's cardigan is (finally) done. Jess is admiring her bulbs along the front walk. Please pay no mind the barren flower garden in the background. I assure you, in another month or two, It will be pretty. It's just full of summer flowerers.
I just have to make a button choice. I'm thinking the green one.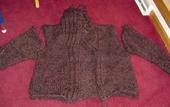 My furry Jacket is just about done. I just need to sew on the sleeves.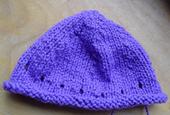 I have a baby hat done (I just need the weave the I-cord through the eyelets) for Kim's shower on the 17th. Now I just have to figure out what to put with it. (I love baby shopping)
There's really not much else to tell. My
stitch n bitch
is going on a sort of field trip to New Buffalo to
Sit n Knit
Sunday. It should be a lot of fun.
Moving down my ufo list I see I need to finish the sleeves on Carma's cardigan, but I also have this that I want to make into some sort of lacy camisole/shell. It's going to sit on my desk until I figure what to do with it.