Ok, For those of you who don't know, I'm short. Five foot, one half inch short, with curves. This makes it damn near impossible to buy properly fitting clothes. So, imagine my happy surprise, when last year I bought a pair of pants, on sale, that fit perfectly. (Of course I only bought one pair, then could never find them again.)
Anyway. I loved these pants. I wore them a lot. They were tan khaki colored denim, and everything was grand. Then, I unknowingly sat on a rollerball pen full of black ink. The pants were ruined. Or were they?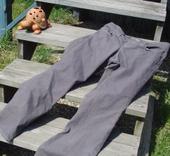 Thanks to some Rit dye, I have my pants back. (Hooray!) I've washed them twice, and I hope that I've washed out all of the excess dye.
I've finished my Joan Jett doll. She looks....well, evil. I think I gave her too much hair. She did have eyes, but Jessie pulled them out, so I have to rethink the french knots. I think I accidently gave her Henry Rollins' head. It sure looks smaller than it should.
Thanks to a sweet arrangement concerning my stitch markers I now have guilt-free yarn money. Which I have already spent. (It sure didn't last long. ) A picture of my purchases.