My car knitting project is finished. (Hey, when you live in an area with as many railroad crossing as I do, a car project is essential.) It's Lionbrand trellis and some gray wool from my stash. I cast on 3 stitches and knit increasing every row until I ran out of the two balls of trellis I had in the car with me. Part of me is quite tickled that I used railroad-type yarn as my car project, but I'm a dork, as we all know.
I have no idea what I'll do with it. but, it's done. It needs some serious blocking...Maybe some fringe.
I have my sleeves sewn onto the furry jacket. I tried it on last night, and all Nate had to say was, "Is it suppose to be that big?" Once I have a photographer AND natural light, I will model it. The pattern calls for a sash, I've opted against it. I'd only lose it anyway.
I cast on a sleeveless top from the red invito yarn from the previous post. A few inches into it, I took it off the needles. The yarns just not "doing it" for me. I'll probably use one ball for a scarf and put the other two in the give-away pile.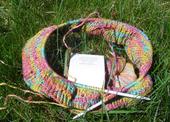 I did, however cast on for
this
with the soysilk I bought on sale at Sheep's Clothing.
Well, I'm off to clean and take pictures of my giveaway/prize yarn. I'm thinking I might have to hold a contest or two. stay tuned.