Ok, this contest is pretty simple. I need to make Nate a guitar strap. Creatively, I'm tapped out. I want it to be approx. 55 inches long. It will have suede tabs at each end. That's all I got. Oh, and it is to be made out of this: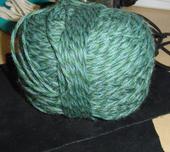 Cascade 220 quattro. I also have some gray wool that goes quite nicely with this that I might use as well.
The contest is this:
Leave me a comment (don't forget to enter your email in the details section) with any ideas or suggestions you have.
On Friday, April 15th, I will close the contest. I will pick two names at random. I will email the first person, with a link to
My stash page
, and ask them to chose a lot number, and email me with their choice and address. I will then do the same with the second name.
Easy enough. Start thinking.