Under the advice of
Jen
, I have joined the stitch markers exchange. (Well, I guess I'm not quite official yet.)
The only problem is I now have Weird Al singing "Eat It" in my head. (a song I quite prefer over "Beat It")
Jess did not have school yesterday, (teacher inservice) and we actually had a very smooth and easy day. It was a lot of fun. It was quite surprising. Now, I realize that I sometimes make her out to be a little hellion -ahem- but there are actually some good reasons for her less than ideal behaviors. She has what is described as Autistic spectrum, which basically means that although she is not Autisic, she does exhibit many behaviors that are common with Autisic children. (This also means she is evaluated regularly for Autism).
But actually, that I can deal with, that I can at least understand. Another major factor in this behavior dilemma is at a genetic level. I'm stubborn. I admit it. Nate is as stubborn, if not more than I. Does this make Jess twice as stubborn? Oh no, she is most definitely stubborn squared.
If a three year old Jess is making me go gray (Oh yes, Nate delights in finding those pesky gray buggers) I don't even want to think about adolescent Jessie. I am so screwed.
Anyway. there has not been much knitting in the last 36 hours or so, except for this scarf.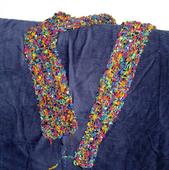 It's one strand trellis from lionbrand(I forget the color), and one strand cascade bobble. It turned out quite cool, but not quite my thing, so I'm not sure what I'll do with it.
I'm hoping to (finally) sew Carma's other sleeve on so i can finish that cardigan once and for all, and I have a tank I am making for my sister-in-law for Mothers' Day. I also need to assemble the beaded Sophie bag I made for my Mother-in -law.
A week from today, Nate and Jess are going to visit My mother-in-law for a long weekend. I am staying home to redo our bedroom. I have lived for four years with turquois, lavender, fishies, and a Little Mermaid poster, and I do not intend to do so for much longer. I will take before pictures (probably today, before I start scraping off the fishie border) Although Little Mermaid may have to stick around for a while longer. I think though I might Keep Ariel up for a while. I think I may miss her.