a whole lot of stitch markers (See, I have been busy.)
Pie shawl:
One Pie wedge done.
Carma's Go-Everywhere cardigan: I'm not posting anymore photos until Carma has it in her possession. I want her to be the first to see it.
Speaking of Carma, Her civic duty ended yesterday, and it was a pretty rough day for her. Drop her a "Hey, how's it going?"
Jessie's mitered square blankie: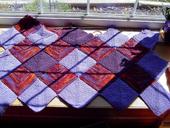 Honeymoon:
I need to rethink the neck/bustline on this one. Skinny straps and a deep V neck are NOT going to work for me. Also I'm going to have to short-row this bad boy, but I'm not sure if I'm going to have enough yarn.
Guitar strap: (Ok, I have not started this. But I did want to remind you to add a comment with strap ideas for my conest. It ends tomorrow)
I keep looking towards the lovely alpaca I bought at Sit 'n Knit, and I'm not sure what to do with it, but I have resolved to clear out some of these UFO's first.
Joan Jett Doll. She's got all but a head. I will spare you the unsettling picture until she is whole.
My rockstar knit-along will officially kick off tomorrow. Come on. You know you want to join us.