I haven't quite been feeling myself lately.
This weekend I finished my string bag, only to decide that it is far too wide. I think I could cart Jess around in this thing. Here is a picture of it, holding an insane amount of yarn.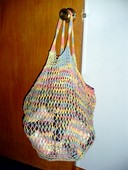 Anyway, the next one I make, I will definitely have to scale down the pattern. Also, I had changed the handle from the original pattern, that called for a garter stitch shoulder strap, to two handles done in double I-cord. I learned how to do the I-cord strap
here
, and I am very pleased with it.
I also worked on Sesame Street, and Nate's Lopi vest. Sorry No pics of the Vest until I block it, otherwise it curls up like a tube, and Sesame street doesn't look much different than it did in the last picture. I am regretting not being able to make it up to New Buffalo to check out the Sit & Knit Cafe that has recently opened. Hopefully next weekend.
Sunday morning Jill called me. Katie gave birth to little Sara early Sunday morning. I guess she labored all day Sat and they had her pushing in the wee hours of the morning, only to decide to go with a C-section. Katie was exhausted, So I am waiting to hear when she'd like visitors. (The poor thing)
I am seriously hoping that my Soap Shed order comes today. I am about this >-< far from getting mad about it. It's been 10 days. A far cry from the 3 to 4 they claim on their site. I feel really bad, because
Tricky Tricot
has got to be wondering when I'll come through with my end of the trade.
I have a Stitch n Bitch Monda--er, tonight. (I just checked the time) I haven't been for a month, so I am really eager to go.
I leave you all with a picture of Jess helping make biscuits for dinner.