Here is the progress on my entrelac scarf/stole. I came to realize, this thing is freaking wide. I'm still on my first ball of yarn and have this much to go: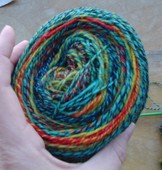 I think I even have another ball or two around here somewhere.
The yarn for my Rogue came today. But I have decided I need to finish some things from my list before I dive into it.
Carma and I (and possibly Cari...come on... you know you want to...) are contemplating a road trip to
Rhinebeck
this fall. That means I need to go on a yarn diet so I can AFFORD to go. Man that's going to be HARD.