...as promised. Hey, and it only took me five attempts at posting for it to FINALLY work. (stupid blogspot.)
Here is my furry jacket, sans sleeves and half a collar. Sorry for the wierd pose. I was trying to get myself in the mirror without having the flash reflect in it. Jess and I ventured out today to buy more jacket yarn, guitar strap yarn, and overalls for her.
*disclaimer* No animals were harmed in the making of this jacket. Er--except maybe me. It's quite a pointless story of unknowingly becoming entangled in yarn and then trying to jump up to get the phone. I fell down....went boom. That's all I'm saying.*
Nate's Lopi vest. It has since gotten a neck band and one arm band. I'm hoping to finish it today. It needs to be blocked, badly. But Nate has tried it on and loves it. (Go me.) I'll have him model it once it's complete.
My car trip project. A supersized buttonhole bag that looks remarkably like Animal from the Muppets.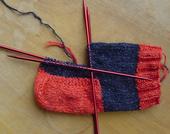 My ride home project. Trinity socks from the yarn I got in my tricky trade. I have four balls. (two in each color) and I'm thinking that I'll be able to get almost 2 pair of socks from two balls. (The advantage of dinky little feet.) So I'm now brainstorming for what to make with the other two.
If you were hoping for trip pictures. I'm sorry. I was the dingus who forgot the camera. My father-in-law took some pictures, but they are all of Nate and the kids. (And a few of me when I wasn't paying attention. No one must ever see those pics. they are hideous.)