Ta-da.
Two bonnets same pattern, different yarns (The red one needs to be blocked) I will be posting this pattern in the next day or so.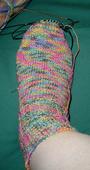 Also, one (nearly) finished sock, for my mother. Her birthday is in July but I figure I should finish these before starting my own so I am not rushed.
I've decided to just buy a top to wear to the wedding. No point in making myself crazy by trying to crank out another top before then. Although
This
top is calling my name. I bought the book tonight. Although there are a few things that really make me scratch my head in bewilderment, there are still quite a few items I would make. Some just because they look like a very enjoyable knit.