Ok, this is my sock yarn:
It's self-striping, but I'd like to make them a bit more exciting. I cannot decide on a sock pattern. Maybe y'all can help. (Please?)
I finished another ballet top. This one is made from some very fun ribbon yarn (called Jungle?)I bought at Sit n Knit. The only piece of advice I have if you decide to run out and buy some to play with, Blunt needles. My pointy 15's snagged a bit.
Speaking of Sit 'N Knit, Jess and I are meeting Jill and heading up there today. Then we are having Kristen's going away party tonight. Kristen is moving to California and, although I'm happy for her, I kind of hate to see her go. She cracks me up.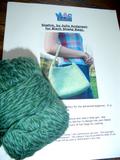 Today I will be leading another naive knitter down the felted purse path. *head thrown back*
Mwhahahahaha!
I'll be helping Jill with her first Sophie bag. Gosh, it's fun corrupting others *fingers tented*
Excellent.