Ok, Monday and Tuesday were spent with the whole Vaughan clan at Spring Mill. It was mostly rainy with some sun. This meant we could not go into the caves, but we did spend some time at Pioneer village.
The Mill:
Tuesday, Nate and I walked back down to the village, just the two of us. While there he took the following pictures for me.
Tuesday afternoon we headed back to Ohio and spent some time with both my in laws. This gave me plenty of time to finish my flower basket shawl, and re teach my niece to knit, and aslo teach my SIL to crochet.
Promised Knitting content:
(sorry for the crappy pics.)
Finished Flowerbasket shawl made with Bamboo yarn from the Southwest Trading CO.
Mom's socks.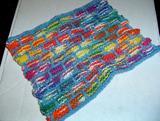 Peaches 'n cream knitted dishcloth.Actually I made the dishcloth Thursday, when we camped out at the "Big E" which is my FIl's place in Connersville. It pretty much consiss of a one room "cabin" a barn and a pump in the woods, by the river. we did not use the cabin, we opted instead for camping riverside.
Camping pictures tomorrow.