Well, I have (finally) posted the bangle bag pattern. If you are interested there is a free pattern link in the sidebar.
I have finished my little red top, and I am disappointed. I went by the bust measurement and I think I could smuggle a small child under this thing. I'm off to sheeps to buy more yarn for another DIFFERENT top. I'm thinking I might go with more of a camisole. If so though, I think I will have to buy some sort of cardigan or wrap or something. (I need to start knitting more for myself.)
I'm more than halfway done with Nate's guitar strap. Not counting the suede tabs, that is. Boy is he nervous. But then if you were not all that familar with the wonders of felting and you wife informed you she was getting close to finishing your guitar strap, and all you saw was this: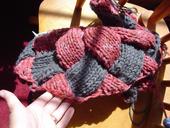 you might be nervous.
I still have one more bonnet to make, I cannot decide if I should make it the same or a little different than the first.
Yes, Lynne, I will write out the pattern.
I did get my grommeted sophie bag finished. Although I will not be keeping it for myself. It will go to my mother-in-law for her birthday.
Carma received her socks this weekend. I think I may have successfully converted her to sock knitting, but I'll let her tell you about that.