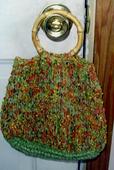 This is what I did with my free time on Tuesday. What do y'all think?. I took it to my Stitch 'n Bitch last night, and I had a request for the pattern, so I should have that up on the pattern page tomorrow, or so.
There hasn't been much else is happening in the house of Vaughan. Today I'm going to lunch with Tara and the new girl to the stitch n bitch. Her first meeting was last night. She was very sweet and funny. (And she has a thing for
Ron Weasley
as well. Hey! Don't judge us.)
I'm working on my second Koigu sock. I finished the first last night. Have I mentioned that having dinky little feet is an advantage in sock knitting?
I should have the other finished by tonight.
I went on a yarn expedition Tuesday and bought all the remaining skeins of Oasis, (
this yarn
) Sheep's had. (It was on sale.) I now have 6 skeins of it at 245 yds a skein. It knits up to 5 sts and inch with #6 needles. I have no idea what I'll do with it. Any ideas?
NO one better suggest a clapotis.
I also bought some more koigu, but no details on that project yet.