Wow. I was not expecting Harlot to link to us. Our hits increased by 700%. (No pressure.)
I have not gotten much knitting(or anything else for that matter) done lately. But I did finish one project.
It's based on the Sophie bag, with some short-row scallops around the top. Yarn: Joann's licorice. I have washed it, but I have yet to attach my handles.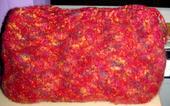 This ones's mine.
I have two other purses that I have knitted and felted once upon a time, but I still have to "handle"
The long-talked about yet never photographed guitar strap, is on the needles, but not very big. It is my next project that I need to finish (Father's day is coming.)
Sometime this week I have to find my Morrissey yarn, so I can start him for the rockstar-along. But that day won't be today.
Yesterday was Jessie's case conference, where we discussed arrangements for her next school year. Things went very well. I'm so very happy that she has teachers who are so involved and concerned.
Wondering about the Title yet?
I was unaware that M & M's now came in Dark chocolate. Thursday Night I caught an ad on television for them. I found them today.
(Let's not comment on the fact I bought the 14 ounce bag, um-kay?)