Carma,
Did I mention that Andy gave me a gift? He made me some
CAKE
CDs to fill out my collection. He got a new laptop and mp3 player, so he's been "Mr. Music". They were my (belated) birthday gift. All I had for him was his Hawaiian shirt to give back to him.
Remember when we all went out and dubbed it, "Hawaiian Shirt Night", and he brought me one since I am lacking? Yes it's been THAT long since we last saw each other.
How bad do I suck? He has even hinted (after looking at some FO pics) That he'd like a
Purdue
scarf. I so droppped the ball here.
Anyhow, That is how I am spending my day. Drinking coffee out of my Sheepy mug...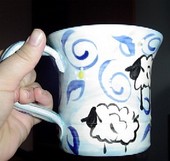 ...and letting CAKE motivate me to get all my stuff done.
I have cut Jess' curtains apart, but I have yet to touch my sewing machine. Yes, even though I posted yesterday that I would do so. But that is because I was given a request from Natey for a sweater vest. He's thinking a bulky-ish thing like the polar fleece ones he owns. Like this one modeled by Jessie.
Little did he know that I have been eyeing some Lopi at my LYS, and I now had an excuse to pick it up.
So my sewing time yesterday, was spent at Sheep's Clothing instead.
And, Carma,
How do you afford your Rock n' Roll lifestyle??
Go check out CAKE's advice section. They may be able to help.