We've all survived a wonderful weekend of houseguests, scroching temps and a birthday party for a soon to be 5 year old. (Five years old already. It seems impossible.)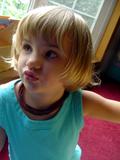 Despite the crushing heat, Jess' birthday party was a success. We are now knee deep in
Playmobil
around here.
Now Jess' actual birthday is a little more than a week away, but she had the unfortunate fate of being born the week in between our two family reunions, so we always celebrate early.
Despite the weekend's festivities, there has been some knitting. (even a trip to the yarn shop.)
Behold my new sock yarn.
My LYS had just gotten Fibertrends FELTED SQUIRREL PATTERN. So I snatched that up, along with the new IK.
That red blob is a felted hedgehog; pre-wash.
Then there is also the Perfect Pie Shawl, and the Boobalicious tank.
My read a good book swap book came! It's a mystery set in Manhattan, and the partner even included a map for me. How very cool! Thanks, Liz!