Shocking that here it is very nearly the end of August... school is back in session once again. To be honest this doesn't effect my life in a huge way because I am childless. But this does make sleeping later a little more difficult. Apparently I live very close to the high school AND the marching band practices marching down my street. Oh, well I guess that means I'll just get myself to work earlier.
BUT school starting does make a significance difference for my best friend, our dear sweet Erin. Here is a snapshot of one adorable child... Jess waiting for the school bus.
Isn't she cute? (E, you make pretty babies... oh yeah, you too Nate ;))
Oh and under the catagory of things to do to make passerbys think you are insane...
Sit on a bench on a main "parkade" with your friend, with both of your legs straight out in front of you, shoes off, wiggling your toes and laughing like a fool.
But, man oh man, it was worth it. (And, as I'm sure you've all figured out, I'm really not one for caring what passing strangers might think)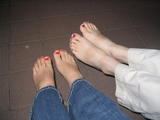 I highly recommend to everyone that has never had to one to HURRY and get a pedicure.
Yup, and when do you think you're going to meet two woman that get pedicures and put on "earth shoes"? Cari & I have decided that being girly isn't so bad. :) In fact we might have to do again sometime. Hehehe (again? oh yeah we definitely are).
Seriously everyone needs a pedicure.now.
In fact, Erin, you need to get your fanny to Iowa so we (you, Cari, and I) can all go be girly together. Wine and massage chairs. What else does a girl need?